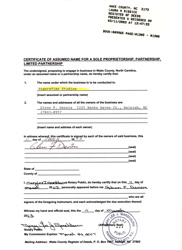 TigersTime Studios has been in business since 2003. I opened the gallery as a way of promoting my trademark work – puzzles combined with Gothic lettering. My first Gothic piece was created in 1995 for a dear friend and colleague, Dr. Michael Bleyman. The first piece was composed entirely of Gothic letters. It was called Gothic One. I still have offset prints of that piece available from the gallery. These are not puzzles in the traditional sense. You do not put them together. Their appearance is that of completed puzzles.
I have included a copy of my DBA. Click on the image to enlarge. You will notice on the DBA that it lists Glenn F. Dennis as the sole proprietor. That's me. I've been using the pseudonym Jason Savage in my business dealings for over thirty years. But on legal paperwork, I must use my given name. I list it on my CV as well.

Since my first Gothic piece, I have made many refinements. My latest work is called Precious Memories of Life. If you would like to pass down memories of that special person, event, or animal, please review the Precious Memories page.