Gothic Ciphers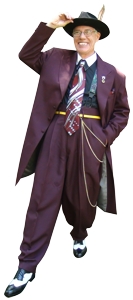 I have designed puzzles using codes (using ciphers) for many years, but I have never done a Gothic Cipher Giclée. I am about to embark on that endeavor very soon. To promote my first piece, I am going to give it away. I have a unique marketing concept in mind.
One will need to be familiar with the Polyalphabetic Table and how to use it. Click here for an instructional PDF. The PDF is not fluid. If you are viewing this page on a phone, you will need to view the file on a larger screen or print it.
The piece will be a 30″ x 30″ Canvas Giclée Original. This will be the first of its kind anywhere in the world. You may want to get in on the opportunity to acquire it free. I will write more about the contest later. The contest will be more than just a drawing. No purchase of any kind necessary to enter.