TigersTime Studios

Artistic Puzzles
I used copyright free photos from the Library of Congress to create this piece. Many needed extensive retouching. The photos are from 1862-1865.

This is a conversion stereogram I did for the 2013 Cooper River Bridge Run poster competition. You can read about my stereograms on this site.

This is another of my City Series. I grew up in Charleston, so I wanted to do a commemorative featuring the local area.

I visited Churchill Downs when I ran in the Senior Olympic Games in 2007. It's a beautiful place.

This is a single photo of East Bay Street in Charleston, SC taken in 1865. This is my signature Gothic work. Resolvative Art.

This is an etching done on blackened surgical stainless steel. I refined the etching technique in my lab. Read more at www.ImmortalMemories.com.

This was my first Gothic piece. It is composed entirely of letters.

I took this photo of the two youngsters waking from a nap on the fireplace hearth. I cut the images from the photo and placed them on the background I took looking toward the river from my Johns Island home.

This is the tribute I designed for myself to be used after my passing. When etched using my technique on black surgical stainless, it will be ale to survive the elements for thousands of years.

I did this tribute to my mother after her passing in 1999. It was printed on canvas. There were two produced. I have one, and my sister has the other.

This is a photo of a young snow leopard I took at the preserve.

I took this photo just before the two old bridges were taken down. The bridges run from Charleston to Mt. Pleasant, SC.

This is my first City puzzle. I love Ocracoke Island, so I took photographs that anyone who visits the island will recognize. I designed the city puzzle for tourists.

This is a collage of photos I took during the Old Reliable Run in Raleigh, NC. That was 2008 - the 25th Anniversary Run.

This is a pencil portrait I did of Patrick Leonard in 1986. He was one of my music teachers in the mid 60's. Pat owned the Leonard's School of Music.

I took this photo of Willie when he was hanging out on top of his den. He is a rescue from Arkansas.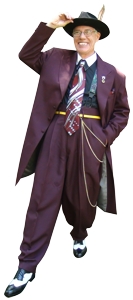 Do you like artistic puzzles? Welcome to TigersTime Studios™. My name is Jason Savage, and my trademark work is Gothic puzzles. They are not puzzles in the traditional sense. I use electronically simulated pieces. After the primary collage is assembled, I electronically emboss Gothic letters of my design throughout the work or around its border. These letters impart a message to the observant viewer. Since there is a resolution or determination to be made, I call my Gothic work Resolvative Art.
Consider commissioning a Precious Memories™ Giclée Original. These artistic puzzles – Giclées – can be passed down for generations. I have quite a few close up details for you to review. If you would like to immortalize a loved one, an event, or yourself forever, take a look at my work in black, surgical stainless steel at Immortal Memories. This site goes into a great detail about commemorative options and the pros and cons of each.
All of my Limited Edition prints are Giclée on canvas. I also have several offset lithographs available. I invite you to look at pieces I produced in other mediums before I entered my Gothic period.
Click on any of the images above for a lightbox preview. The lightbox has in information tab (i) you can click. Start the carousel revolving again by clicking the small, red arrow. Thank you for visiting my studio and reviewing my artistic puzzles. What memory can I create for you?